Cerritos, Calif. – May 25, 2012 – Calnetix Technologies, a pioneer in developing and manufacturing high-speed permanent magnet motor generators, power electronics and magnetic bearings for a variety of applications and industries, received a proclamation yesterday from Cerritos Mayor Jim Edwards at the company's open house event, celebrating its new location in the City of Cerritos.
"We were very pleased that the mayor could attend our event," said Calnetix Chief Executive Officer Vatche Artinian, "We are doing our part to keep technical talent and manufacturing jobs in the City of Cerritos, as we deliver energy efficient technologies and innovative products to our customers throughout the world."
The open house, which also included facility tours, speeches and a reception, was attended by customers, suppliers, investors, community members and other stakeholders in Calnetix, its former subsidiary VYCON and its current subsidiary Access Energy.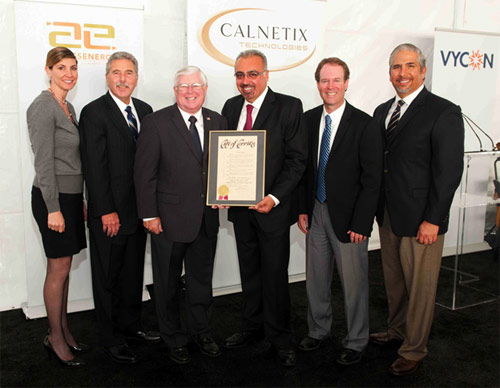 Left to right: Vida Barone, Cerritos Interim City Clerk; Art Gallucci, Cerritos City Manager; Cerritos Mayor Jim Edwards; Vatche Artinian, Calnetix CEO; Ian Hart, Calnetix CFO and Torrey Contreras, Cerritos Director of Community Development
About Calnetix Technologies
Calnetix Technologies, LLC ("Calnetix"), headquartered in Cerritos, CA, is focused on Innovation That Drives Industries. The company specializes in high-performance, high-speed motor generators and best-in-class advanced magnetic bearings and control systems. Calnetix's patented, underlying technologies, which have been in use since the company's inception in 1998, have made Calnetix a world leader in the design and production of high-speed machines. The company's overall technology portfolio and system integration capabilities have led to development and production contracts with industry leaders and the start of many successful subsidiaries that focus on unique niche markets. For more information, please visit www.calnetix.com.